MICHAEL MARTELLE - Head instructor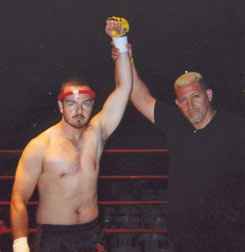 Mike Martelle Mike Martelle is Grizzly Gym's Head Instructor of Muay Thai, Brazilian Jiu-Jitsu, MMA, and Chinese Martial Arts. Mike is also a retired professional MMA fighter, Pro Boxer and Pro Thai Boxer. His MMA record is 15-2, and can be viewed here
Mike began his study of martial arts in 1983, initially in Karate but then later in Chinese styles (Northern Shaolin, Yang T'ai Chi Ch'uan, Pa-Qua Ch'ang and Tam T'ui) under Sifu Kwok Chan. In 1993 he began his study of Muay Thai under Kru Eric Advincula of Tiger Gym, and took his first Brazilian Jiu-Jitsu lesson in 1994 (he is currently an IBJJF-certified black belt under Professor Enson Inoue of the PUREBRED team). From 1996-1999 Mike was also a CIAU letter-winning varsity wrestler at Queen's University; he has since won multiple championships (including international and world titles) in a variety of martial arts styles across six continents. A selection of his competition highlights can be viewed here. He is particularly proud to hold a 5th Degree Black Belt under Hidetaka Aso-Sensei of SAW (Submission Arts Wrestling), and to act as Aso-Sensei's representative in Canada.
Now retired from competition, Mike enjoys coaching a new generation of athletes, including both successful competitors and casual clients in search of a fun and intense workout. Please come visit anytime for a free trial class!
Mike Martelle appears in Ken Shamrock's autobiography, Inside the Lion's Den, and has also been featured in magazines and media worldwide, including Ultimate MMA magazine, God Bless The Ring (Japan), O Tatame (Brazil), El Mexicano (Mexico), Kakutogi Tsushin - The Journal of Full Contact (Japan), Fighters Magazine (UK Edition), MAN Magazine (Japan), The Queen's Alumni Review, FLEX Magazine, Muay Thaimes and Windspeaker - Canada's National Aboriginal News Source.
MIke Martelle has been a member of the USMTA Independent Review Board, Jury Council to the 2007 Pankration World Cup (Dagestan, Russia), Technical Committee Chairman to the 2008 World Pankration Championship (Tehran, Iran), and Vice Chairman to the Organizational Committee of the 2008 and 2009 International Kulatuu Tournaments (Karakol, Kyrgyzstan). He has served as the Secretary General of the Pan American Pankration Federation and the Executive Director of the worldwide Referee Committee for the International Federation of Pankration Athlima.
Mike Martelle was additionally the recipient of the International Federation of Pankration Athlima's Best Spirit Award in 2000, and the Cauliflower Alley Club's Martial Arts Award in 2006.