Brazilian Jiu-Jitsu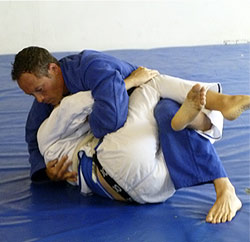 Brazilian Jiu-Jitsu is a sophisticated martial art and sport with an emphasis on close-quarters grappling, submission holds, and self-defence on the ground. Emphasis is placed upon the science of human combat, employing a knowledge of leverage and kinetics to allow a smaller person to defeat a larger opponent. Brazilian Jiu-Jitsu (or "BJJ") is best known for it's significant role and usage in modern professional combat sports, most notably Mixed Martial Arts.
Expertise in Brazilian Jiu-Jitsu remains a rare commodity in our corner of the world, and BJJ is recognized as having one of (if not the most) difficult and lengthy progressions from white to black belt; often, the process takes more than a decade, and legitimately earned senior ranks in Brazilian Jiu-Jitsu are truly worthy of the highest respect in martial arts.
Mike Martelle is currently an IBJJF-certified black belt in Brazilian Jiu-Jitsu, and the highest-ranking BJJ Instructor in the Kingston area. We are affiliated with Japan's Purebred Omiya team under retired MMA superstar and BJJ black belt Enson Inoue. Mike has also won multiple advanced-division BJJ championships, including the 2004 Montreal Open, the 2008 BTT-Canada Open, participated in 2011, 2012, and 2013 IBJJF International Opens, and won bronze at the 2012 IBJJF World Masters/Seniors Championship. Mike was also an invited competitor in the world's most prestigious and elite grappling tournament - the ADCC 2009 World Championships in Barcelona.
Grizzly Gym is by far the most successful BJJ competition team in Kingston's history!
Whether for competition or self-defence, come learn from the experts!
S.A.W. - Submission Arts Wrestling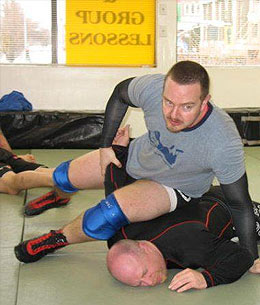 Founded in the 1980s by legendary submission wrestler Hidetaka Aso, SAW is a Japanese hybrid style of grappling that incorporates all manner of throws, pins, and submission holds. SAW is primarily a no-gi system, with focus on groundwork and "chains" of chokes and joint locks. A popular sport onto itself with it's own unique set of competition rules, the SAW organization has affiliates worldwide and is partners with the popular MMA organization Pancrase.
Grizzly Gym is proud to be the sole Canadian representative of SAW and it's fellow organization, The All-Japan Joint Technique Federation. At our main location, classes are taught by 5th Degree Black Belt and 2007 World Heavyweight Champion Mike Martelle. Interested students can also pursue competition and rank ( up to and including the title of Black Belt ), issued directly from Aso-Sensei in Japan.